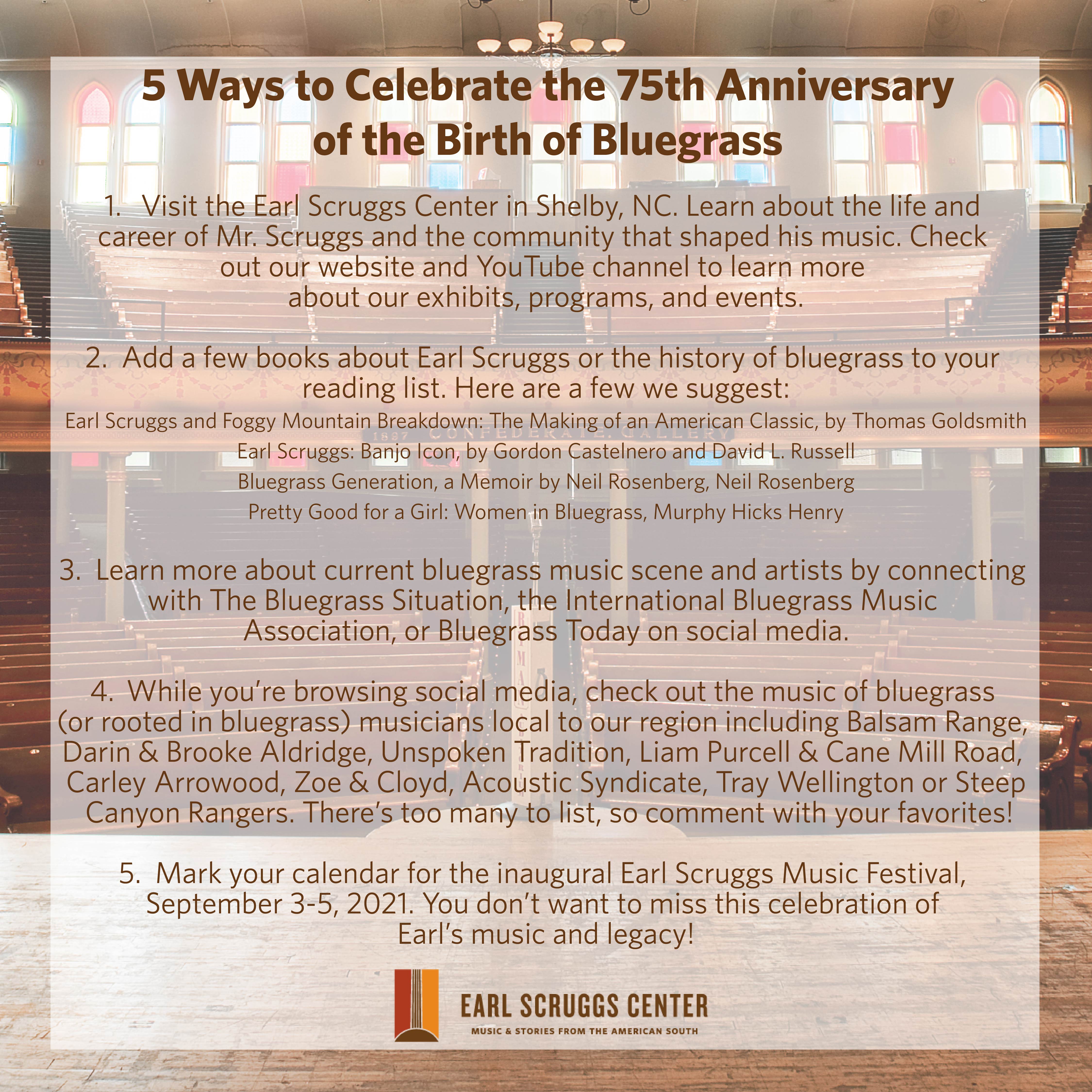 Celebrating 75 Years of the Birth of Bluegrass
Top 5 Things to do to Celebrate the 75th Anniversary of the Birth of Bluegrass
1. Visit the Earl Scruggs Center in Shelby, NC. Learn about the life and career of Mr. Scruggs and the community that shaped his music. Check out our website and YouTube channel to learn more about our exhibits, programs, and events.
2. Add a few books about Earl Scruggs or the history of bluegrass to your reading list. Here are a few we suggest:
          Earl Scruggs and Foggy Mountain Breakdown: The Making of an American Classic,

by Thomas Goldsmith
          Earl Scruggs: Banjo Icon, by Gordon Castelnero and David L. Russell
          Bluegrass Generation, a Memoir by Neil Rosenberg, Neil Rosenberg
          Pretty Good for a Girl: Women in Bluegrass, Murphy Hicks Henry
3. Learn more about current bluegrass music scene and artists by connecting with The Bluegrass Situation, the International Bluegrass Music Association, or Bluegrass Today on social media.
4. While you're browsing social media, check out the music of bluegrass (or rooted in bluegrass) musicians local to our region including Balsam Range, Darin & Brooke Aldridge, Unspoken Tradition, Liam Purcell & Cane Mill Road, Carley Arrowood, Zoe & Cloyd, Acoustic Syndicate, Tray Wellington or Steep Canyon Rangers. There's too many to list, so comment with your favorites!
5. Mark your calendar for the inaugural Earl Scruggs Music Festival, September 3-4, 2021. You don't want to miss this celebration of Earl's music and legacy!