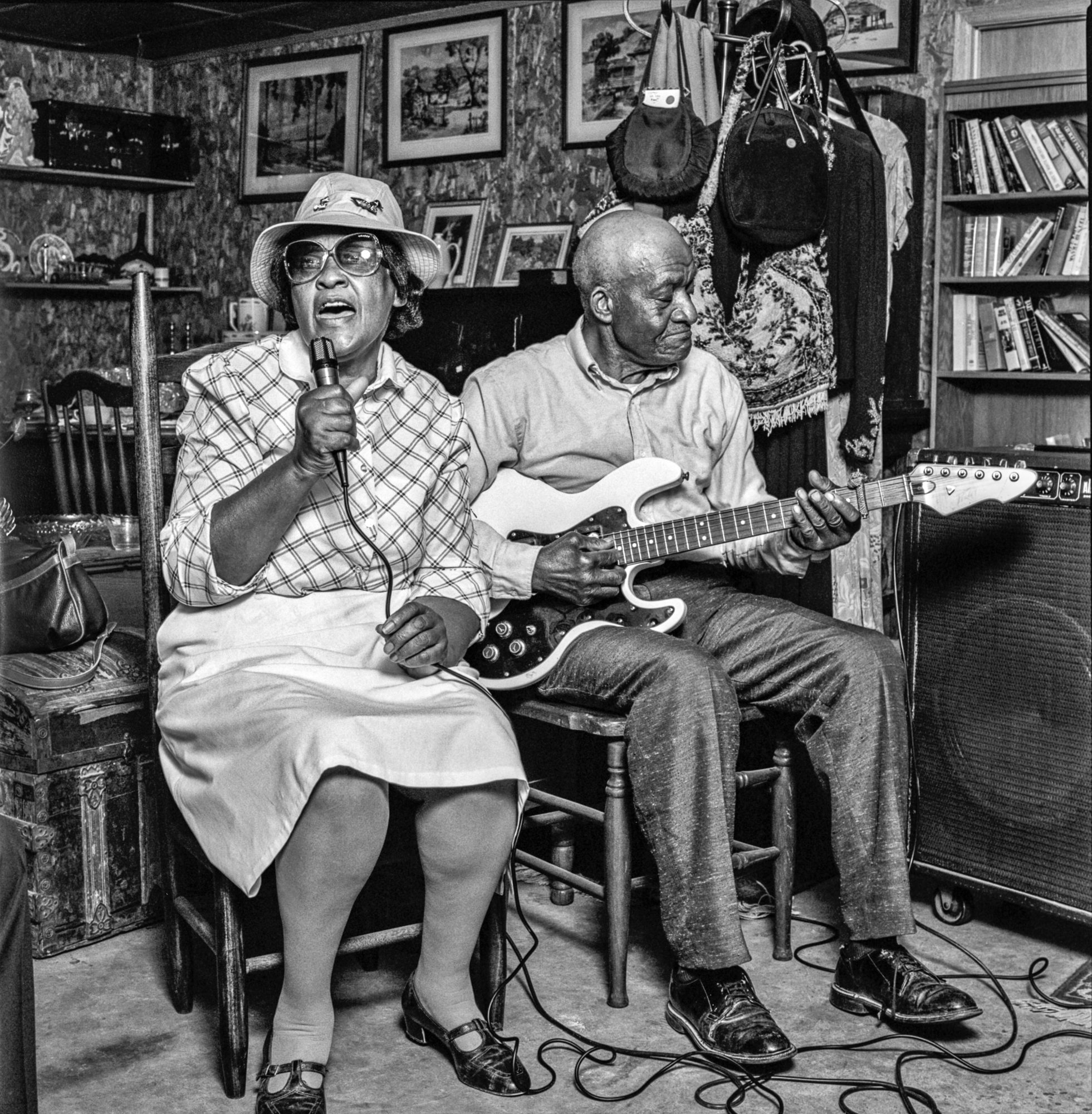 Earl Scruggs Center Announces Two Special Exhibits for 2015
We are the Music Makers, January 10, 2015 – May 2, 2015
"We are the Music Makers" exhibition illuminating living southern music cultures and communities. Traveling exhibition commemorates 20th anniversary of non-profit music and support organization. Music Maker Relief Foundation – the non-profit organization that supports traditional Southern musicians  by documenting and presenting their art – will be the subject of a museum exhibition set to preview January 9 at the Earl Scruggs Center: Music & Stories from the American South ( 103 S Lafayette Street, Shelby, NC) and run through May 2 in the second floor Special Exhibits Gallery. "We Are the Music Makers," which delves deeply into the living southern musical culture and the musicians themselves, will travel to venues throughout the country over the next five to seven years.
GRAMMY Award-winning musician Marty Stuart said, "Throughout 'We Are the Music Makers', the viewer is granted access to worlds that are beyond reach and off limits to most. There is less than a razor's edge of difference in royalty and rogue at the bedrock of American roots music."
Folk music and photography legend John Cohen said, "I have never seen photographs generate so much of the atmosphere and personalities of blues music."
Curator of Collections of the Earl Scruggs Center, Annmarie Reiley-Kay, heralds "We are the Music Makers" as, "An exciting presentation of musicians from North Carolina and beyond that introduces audiences to little-known artists while simultaneously re-exposing them to some of the best-loved entertainers both past and present."
In addition to musical instruments, the GRAMMY Award won by the Carolina Chocolate Drops, North Carolina folk art, and vintage cameras, visitors will experience thirty panels that feature photographs of traditional Southern musicians taken by Music Maker founder and head Tim Duffy over the last twenty years, many of which are also featured in his Nautilus Press book We Are The Music Makers, out September 15. The exhibit panels speak to the significance of each musician's style and have a storytelling quality, putting each figure in the context of his cultural community. Audio recordings and a film are also included to further enhance the content of the panels.
The instruments include a fiddle handcrafted by Music Maker artist Samuel Turner of Asheville, NC; folk art by Sam McMillan of Winston-Salem, NC; and a banjo signed to Tim Duffy by Guitar Gabriel; and a guitar named Pawnshop owned by Adolphus Bell of Birmingham, AL.
Feast Here Tonight: Southern Food & Music Traditions, May 16, 2015 – January 3, 2016
The Earl Scruggs Center's 2nd 2015 special exhibit, Feast Here Tonight: Southern Food & Music Traditions, celebrates the intersections of southern foods and music.  Emily Epley, Executive Director said "We are so honored to have Ronni Lundy, a founding member of the Southern Foodways Alliance (SFA), partnering with us on this exhibit and related programming.  Her enthusiasm and expertise on the subject will enrich the content of the exhibit and the programs."  In 2005, Lundy edited Cornbread Nation 3: Foods of the Mountain South, the SFA's  occasional anthology of the region's best food writing. Lundy is the author of Shuck Beans, Stack Cakes and Honest Fried Chicken: The Heart and Soul of Southern Country Kitchens (Atlantic, 1990) and Butter Beans to Blackberries: Recipes from the Southern Garden (North Point, 1999).
Feast Here Tonight explores the way in which the traditions of both southern food and music have woven individuals and families together to create and strengthen communities past and present. Just like southern music, southern food traditions are deeply rooted in both diverse peoples and faraway places. This exhibit unearths the roots of food from the piedmont region by illustrating where today's southern foods and traditions first appeared and exploring the cultures that introduced them. From the Native American roots of barbeque, to the influence of African American cooks on southern cuisine, to the transatlantic influence of the European immigrants who eventually settled the piedmont region, Feast Here Tonight focuses on the dishes and traditions that defined the American South and, specifically, the piedmont and Appalachian regions of North Carolina. Additionally, this exhibit traces the dramatic changes in southern food over time and how southern cooks continue to express—and even redefine—themselves through the traditions of the past through food fusion. And, of course, no exploration of southern food is complete without opening the pantries and cupboards of southern cooks and exploring popular southern food brands that line their shelves and have become family favorites for generations past, present, and future.
For more information on this or other great exhibits and programs click here, "like" us on Facebook or follow us on Twitter.
The Center is free to Cleveland County residents on Wednesdays. Regular hours of operation are Wednesday 10 am-6 pm, Thursday – Saturday 10 am – 4 pm and Sunday 1 pm – 5 pm. Learn more about the Earl Scruggs Center: Music & Stories from the American South and upcoming events and programs by calling 704-487-6233 or visiting www.earlscruggscenter.org.
The Earl Scruggs Center is a project of Destination Cleveland County, Inc., a non-profit 501©3 whose mission is to unite our county's history, heritage, culture and arts to create a vibrant economy while embracing the future and preserving the past.