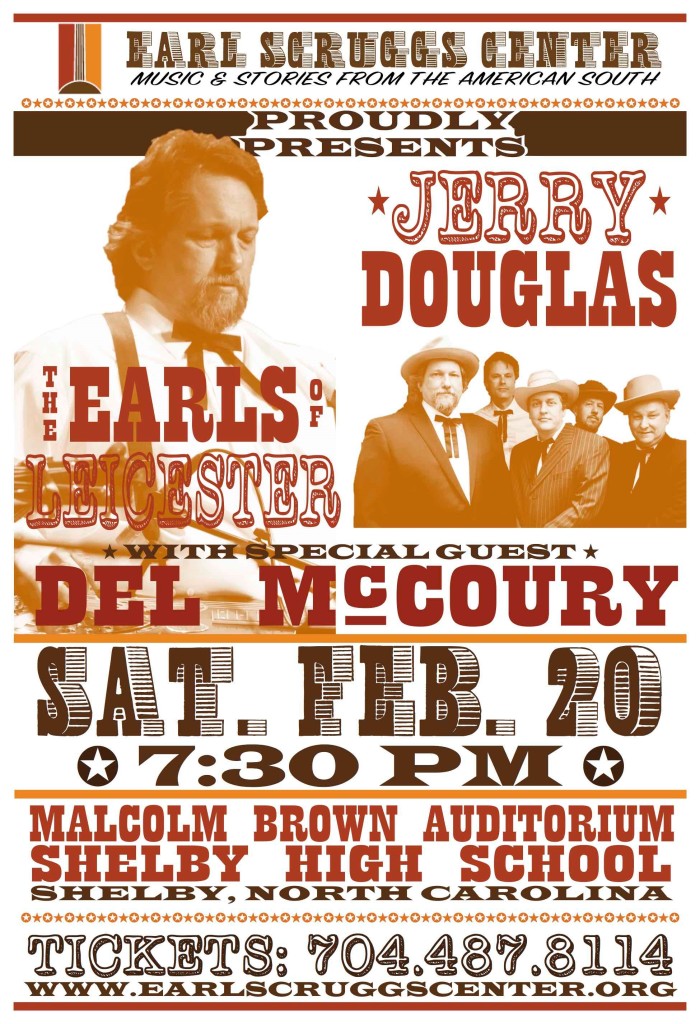 CLICK HERE TO PURCHASE TICKETS!
GREAT VALENTINE'S GIFT!
The Earl Scruggs Center Presents:
Jerry Douglas and the Earls of Leicester
with special guest Del McCoury
Emcee, Grand Ole Opry Announcer Eddie Stubbs
Saturday, February 20, 2016
7:30 PM
Malcolm Brown Auditorium Shelby High School
Shelby, North Carolina
GRAMMY and IBMA award-winning band Jerry Douglas and the Earls of Leicester features legendary dobro player Jerry Douglas with acclaimed writer, producer, and solo artist Shawn Camp on lead vocals and guitar, renowned Nashville banjoist Charlie Cushman on banjo and guitars, second-generation fiddle phenom Johhny Warren, and Barry Bales, Douglas' longtime bandmate in Alison Krauss and Union Station, on bass and vocals.
The group is the product of Douglas' lifelong passion for the music of bluegrass pioneers Lester Flatt and Earl Scruggs and their band, the Foggy Mountain Boys – note the play on words in the group's name.  This has been a longtime vision of Jerry Douglas, friend of Earl Scruggs.  Joining them will be special guest and bluegrass legend Del McCoury, who was bitten by the bluegrass bug when he heard Earl Scruggs' banjo.  McCoury got his first taste of bluegrass when he played for Bill Monroe's bluegrass boys in early 1963, and he has gone on to become one of bluegrass music's greats.
CLICK HERE TO PURCHASE TICKETS!  OR  CALL 704.487.8114
GREAT VALENTINE'S GIFT!

A LIMITED NUMBER OF VIP PACKAGES ARE AVAILABLE
VIP Tickets may only be purchased by contacting Jenifer Roberts or Melody Gamble at the Earl Scruggs Center.  704-487-6233
Each Package includes 1 VIP concert ticket and 1 admission to the VIP
Meet & Greet Reception at the Earl Scruggs Center following the concert.
$175 per person
NEW FLINT HILL SOCIETY MEMBERS RECEIVE 2 COMPLIMENTARY VIP PACKAGES!
The Earl Scruggs Center is a project of Destination Cleveland County, Inc. (DCC), an award winning, volunteer driven unique 501(c)3 public-private partnership.
This event is a benefit to support the Earl Scruggs Center's.