Exhibit Opening Festivities – Carolina Calling: The Photography of Daniel Coston
Saturday, September 21, 2019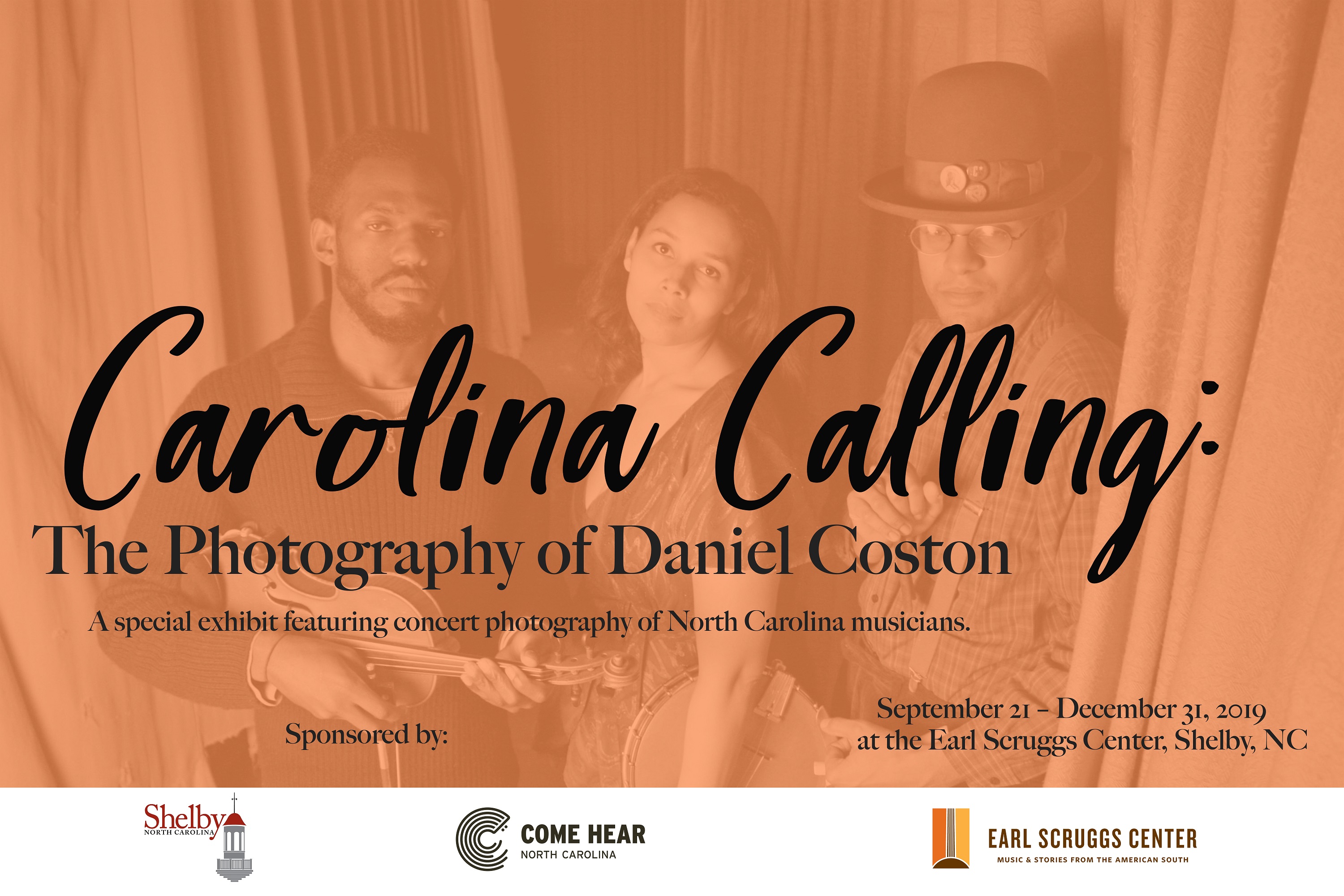 Carolina Calling: The Photography of Daniel Coston will open Saturday, September 21.
Come Hear NC Discussion Panel – 1:00 PM
Join us for a discussion panel presented by Come Hear North Carolina and moderated by Joe Kendrick, Director of Programming at WNCW radio station and host of the podcast Southern Songs and Stories. The panel will discuss North Carolina music– the musicians who have contributed to a strong musical heritage in the state and the bright future of the NC music scene.
Panelists:
Daniel Coston is a North Carolina-based photographer, writer, and traveler. His photography credits include work with Johnny Cash, the Avett Brothers, the Down From The Mountain tour, and many others. Coston's work is featured in the exhibit Carolina Calling: The Photography of Daniel Coston. 
Laura Boosinger is a celebrated traditional folk artist — musician, folklorist, storyteller — whose primary focus is the interpretation of traditional music from the Southern Appalachian region. Boosinger is also a consultant with the Blue Ridge Music Trails, host of Down the Road podcast, and executive director of the Madison County Arts Council.
Dolphus Ramseur is the founder of independent record label and management company, Ramseur Records, based in Concord, NC. He has helped foster the creative and artistic visions of such celebrated North Carolina musicians as The Avett Brothers and Steep Canyon Rangers. Ramseur was inducted into the North Carolina Music Hall of Fame in 2018.
Wayne Martin has served as the Executive Director of the NC Arts Council since 1981 and is recognized as a leader in community arts development, arts education, and cultural and heritage tourism. Prior to joining the Arts Council, Martin founded the Piedmont Council of Traditional Music (PineCone). An accomplished musician, Martin has recorded and produced several albums of traditional music for the Smithsonian Folkways, Global Music, and MusicMaker labels.
The panel discussion will be followed by a meet and greet with the featured panelists and Come Hear NC.
This event is open to the public. Space is limited and registration is highly encouraged.
Carolina Calling VIP Reception – 6:30 PM
Join us for an invitation-only VIP reception in celebration of our newest exhibition!
Featuring:
Come Hear NC welcome
Remarks by Daniel Coston
Special presentation from David Holt's State of Music.
Space is limited and registration is required. RSVP by September 10.
We hope you will join us in this special celebration of North Carolina music!