Lunch-N-Learn: In the Footsteps of Daniel Boone
Wednesday, March 29, 2017 @ 12:00 pm

-

1:00 pm
Join us for a Lunch-N-Learn with North Carolina Humanities Council Road Scholar Randell Jones!  Bring your own lunch or pre-purchase a $10 boxed lunch.
Market hunter, frontier guide, wilderness scout, master woodsman, expert marksman, Indian fighter, militia leader, surveyor, land speculator, judge, sheriff, coroner, elected legislator, merchant, tavern keeper, prisoner of war, Spanish syndic, husband, father, brother, son—Daniel Boone led one of the fullest and most eventful lives in American history, including 21 years in North Carolina. This presentation tells the life story of Daniel Boone by putting his life on the landscape and taking the audience to some of the 85 sites spread across 11 states where the life of America's pioneer hero is commemorated with markers, monuments, plaques, statues, historic homes and replica forts. (All 85 sites are presented in the book In the Footsteps of Daniel Boone.) Award-winning author and storyteller Randell Jones shares the episodes and adventures from Boone's life that made the frontiersman famous. The story begins in the Oley Valley of Pennsylvania where Boone was born in 1734 and continues through his remarkable life to his death in Missouri of natural causes a few weeks shy of his 86th birthday. Storytelling carries the presentation. Photos and maps are displayed for individual browsing.
Randell Jones adopted North Carolina as home after earning his MBA at UNC-Chapel Hill in 1985. During the past 23 years he has written books and articles, produced movies and audio programs, and shared with audiences in person remarkable tales about the Tar Heel State and its unique and colorful history. He serves business clients through his consulting practice, Communications and Leadership Consulting. He is a native of Arkansas who grew up in Memphis, Tennessee and graduated with two engineering degrees from Georgia Tech. His passion for history began with his interest in genealogy which led him to discover the whereabouts of his North Carolina ancestors dating to 1792. He is the co-editor with this daughter of Scoundrels, Rogues and Heroes of the Old North State, a collection of stories written by Dr. H.G. Jones over 17 years.  (Randell is not related to Dr. Jones.) He is the author of In the Footsteps of Daniel Boone, recipient of the 2006 Willie Parker Peace History Book Award from the North Carolina Society of Historians. He is the past president of the Overmountain Victory Trail Association and consults with the National Park Service on the Overmountain Victory National Historic Trail. Randell lives in Winston-Salem with his wife. Their teenage daughter (the co-editor) is an underclassman at the College of William & Mary. Another daughter lives in Greensboro and with her husband (both Carolina graduates) is rearing his grandson and granddaughter, both Tar Heel-born!
This project is made possible by funding from the North Carolina Humanities Council, a statewide nonprofit and affiliate of the National Endowment for the Humanities.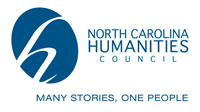 Bring your own lunch or pre-order a $10 boxed lunch:
Chef Salad
6″ Grilled Chicken Sub
6″ Grilled Steak Sub
6″ Vegetarian Sub
All subs come with chips.  All boxed lunches come with a choice of bottled water or canned soda.  
Please place your order by Monday, March 27th at noon.