Remembering Earl: Music & Stories
Saturday, January 14, 2017 @ 7:30 pm

-

10:00 pm

$30 – $55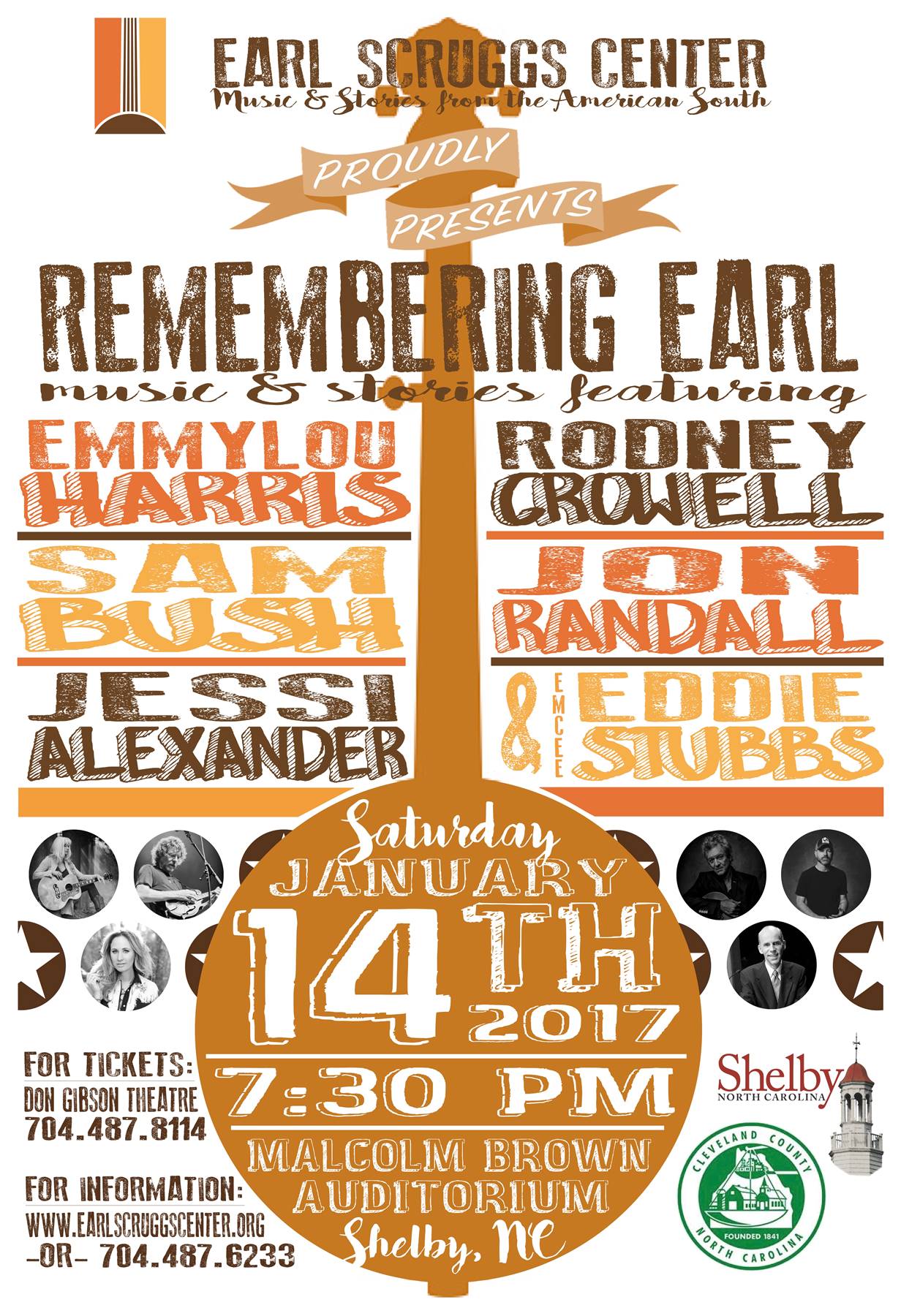 Join
Emmylou Harris, Rodney Crowell, Sam Bush,
Jon Randall, Jessi Alexander and Emcee Eddie Stubbs 
for
Remembering Earl: Music & Stories
Malcolm Brown Auditorium at Shelby High School
Saturday, January 14, 2017


7:30 pm.

 
Join us for our 2017 benefit event, Remembering Earl: Music & Stories,  featuring Emmylou Harris, Rodney Crowell, Sam Bush, Jon Randall, Jessi Alexander and Emcee Eddie Stubbs sharing music and stories about the Center's namesake, legendary banjo master, Earl Scruggs.   
TICKETS
Earl Scruggs Center members may take advantage of a members only pre-sale option December 1st – 3rd. Ticket sales open Saturday, December 3 at 6:00 pm for $55, $45 and $30. To purchase tickets, call or visit the Don Gibson Theatre box office or purchase online.
Don Gibson Theatre (contact for ticket sales only)
704-487-8114
318 South Washington Street, Shelby, NC 
For information about becoming a member, purchasing VIP packages or general information about this event, contact the Earl Scruggs Center at 704-487-6233 or visit guest services during our regular operating hours. Tuesday – Saturday 10 am – 4 pm with extended hours on Wednesdays until 6 pm.
Limited number of VIP packages available. 
ABOUT THE EVENT
Gary Scruggs, Earl's son, shared about participating artists and their connection to Earl and the Scruggs family.  "All the artists taking part in the Earl Scruggs Center's upcoming Remembering Earl: Music & Stories are Scruggs-family friends and all of them sat in with the Earl Scruggs with Family & Friends' band at one time or another, including the four-part series when Dad was the 'Artist in Residence' at the Country Music Hall of Fame and Museum in September of 2004. Jon Randall was a member in the Family & Friends band and emcee Eddie Stubbs, another family friend, took part in several events involving Dad and my mother, Louise. Eddie officiated Dad's funeral service and delivered the eulogy in 2012.
Like Dad, Emmylou Harris is a member of the Country Music Hall of Fame and both Emmylou and Dad received an Honorary Doctorate of Music from the Berklee College of Music. In the 1970s, the Earl Scruggs Revue shared the stage with Emmylou and her Hot Band on numerous occasions as we did with Sam Bush's Newgrass Revival.
I'm sure the Remembering Earl: Music & Stories event will be an exciting and entertaining blend of country, bluegrass and Americana music along with personal stories told by the artists that will be reminiscent of the wonderful picking parties that went on at Mom and Dad's home in Nashville."
Earl Scruggs Center board member, Rhonda Benfield said "It's always exciting when well-known entertainers perform in our community, but this is special because they're doing it to honor the memory of a man with a tremendous legacy. That they made room in their schedules to perform in Earl's hometown, reminds us of Earl's worldwide impact on people and music. Special thanks to the City of Shelby and to Cleveland County, presenting sponsors for the Remembering Earl: Music & Stories event.
MEET THE ARTISTS
Emmylou Harris, a 13-time Grammy winner and Billboard Century Award recipient, Emmylou Harris' contribution as a singer and songwriter spans 40 years. She has recorded more than 25 albums and lent her talents to countless fellow artists' recordings and was inducted into the Country Music Hall of Fame in 2008.  One of the most admired and influential women in music she is known as much for her eloquently straightforward songwriting as for her incomparably expressive singing.  She has recorded with such diverse artists as Linda Ronstadt, Daniel Lanois, Bob Dylan, Mark Knopfler, Neil Young, Gram Parsons, Willie Nelson, Dolly Parton, Roy Orbison, Ryan Adams, Beck, Elvis Costello, Johnny Cash, Lucinda Williams, Lyle Lovett and most recently Rodney Crowell. 
Rodney Crowell is a multi-Grammy winning singer/songwriter, a member of the Nashville Songwriters Hall of Fame and the recipient of the 2009 Lifetime Achievement Award for Songwriting from the Americana Music Association. He won the Americana Music Association's Group/Duo of the Year along with Emmylou Harris, their second win in this category, this past September. His songs have been covered and performed by an eminent group of musicians, including Van Morrison, Johnny Cash, Waylon Jennings, Etta James, George Strait, Tim McGraw and Bob Seger. He'll release a new album March 3, 2017 on New West Records. 
Sam Bush, a member of the Earl Scruggs Center's grand opening lineup in 2014, returns for this year's event.  The Father of Newgrass and King of Telluride has long since established himself as roots royalty, revered for both his solo and sideman work, which includes time with Emmylou Harris, Lyle Lovett, and Béla Fleck. But instead of kicking back and soaking up honors such as an Americana Music Association Lifetime Achievement Award and suite of Grammys and International Bluegrass Music Association trophies, Bush still strives relentlessly to create something new.  Since his 2014 Shelby visit, Bush has completed a new album, Storyman. Many of the songs are stories, several of them true, and the legendary mandolin player co-wrote each of them with friends Guy Clark, Emmylou Harris, Jon Randall Stewart, Jeff Black, and others. 
Jon Randall Stewart started his professional musical journey singing backup and playing guitar with Emmylou Harris's Grammy award winning Nash Ramblers. Randall has toured and recorded with countless household names including Vince Gill and Dierks Bentley. Most known for his CMA Song of the Year award for 'Whiskey Lullaby", Randall is credited the co-write with Whisperin' Bill Anderson. Producer of "Up on the Ridge", Dierks Bentley's acoustic project earned CMA, GRAMMY, and ACM nominations. Randall's success as a musician, background singer, writer, and producer continues to flourish from the heart of Nashville. 
Jessi Alexander, Established Singer/ Songwriter of some of the chart topping hits on country radio, has penned four #1's including "I Drive Your Truck" recorded by Lee Brice(Song of the Year from the 2013 CMA Awards, 2014 ACM Awards, and 2013 NSAI Awards). Additional #1's include Blake Shelton's "Mine Would Be You" and "Drink On It".  Alexander's career skyrocketed with her song "The Climb". Miley Cyrus recorded it and it soon became the anthem for her box office hit "The Hannah Montana Movie" and won the 2009 MTV Movie Awards 'Best Song From A Movie'. Jessi's 9 song album, "Down Home" is now available on iTunes.    
The Earl Scruggs Center opened January 2014 and has welcomed visitors from 49 states and 13 countries.  The Center engages with and serves guests from the community and world as a cultural destination, community gathering place and educational resource.  The Center provides opportunities for all to engage with and learn about the life and legacy of legendary five-string banjo master Earl Scruggs and the unique and engaging music, history and cultural traditions of the community and region where he was born and raised. 
The Earl Scruggs Center and the Don Gibson Theatre are projects of Destination Cleveland County, Inc., a  citizen-driven award winning unique public/private partnership, a non-profit 501©3.