Earl Scruggs Center Announces: Addition of Display Honoring Legendary Blues Musician Sonny Terry
FOR IMMEDIATE RELEASE 5.1.2023:
Earl Scruggs Center Announces:
Addition of Display Honoring Legendary Blues Musician Sonny Terry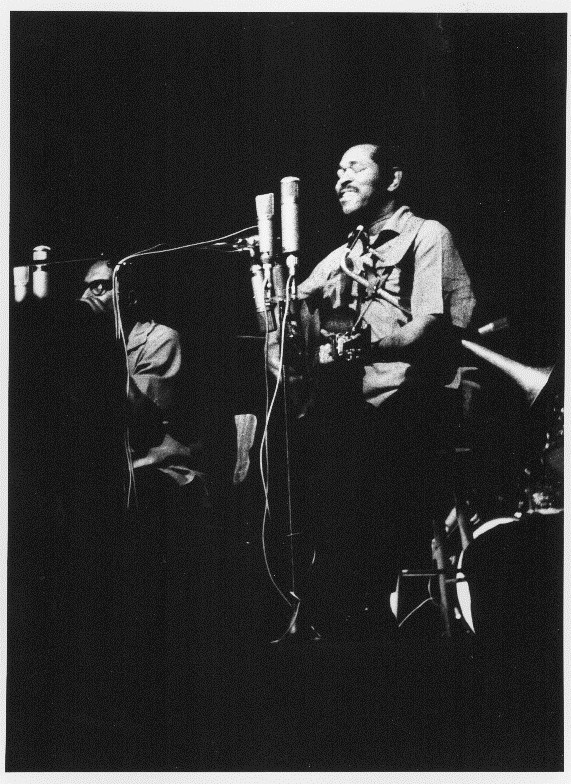 Photo by Per-Olof Löfberg. Used courtesy of the Blues Archive, University of Mississippi (L-R – Sonny Terry, Brownie McGhee)
The Earl Scruggs Center is proud to announce a new display, "Whooping the Blues," honoring legendary blues harmonica player Sonny Terry. Blinded at a young age in farming accidents, Terry began playing music after his family moved in the 1920s to the Sandy Run Township of Cleveland County, NC.
Most famous for his musical partnership with guitar player and singer Brownie McGhee, Terry took his music to the blues scene in Durham, NC, and then New York City. He played Carnegie Hall in 1938 and in 1959, was featured on the lineup of the inaugural Newport Folk Festival alongside Cleveland County native Earl Scruggs.
"Cleveland County is most often recognized for our contributions to the genres of bluegrass and country, but there is also a strong tradition of blues music here," said Mary Beth Martin, Executive Director. "Sonny Terry was so important to Piedmont blues and American music and I'm proud that we're telling his story here in the community where he began his musical journey."
In addition to information about Sonny Terry's life and music, the display features photos and historical objects from his career, including a harmonica owned and played by Terry. These items were generously given to the Earl Scruggs Center's collection for use in the display.
"It was a great experience to work with Sonny's family.  They were excited to find out more about his early life and they care deeply about his legacy and want to see it preserved as much as possible," said Zach Dressel, Assistant Director and Curator of the Earl Scruggs Center. "We are honored with their donation of personal items, which includes one of his many harmonicas. Visitors can see the dents, dings, and scratches that Terry put in the instrument while he used it."
On Saturday, June 10, musical duo Sandy Carlton and Phil Ruff will play a concert featuring the music of Sonny Terry and Brownie McGhee on the court square outside of the Earl Scruggs Center at 3:00 pm. Guests are encouraged to bring lawn chairs, enjoy the music, and stay for Pickin' on the Square, which begins at 5:00 pm.
Visitors can see the Sonny Terry display in the Turning Road Gallery, which explores innovation and music in Cleveland County alongside Earl Scruggs' influence on music and the world. The gallery also features interactive tables where visitors can explore an oral history audio archive of Cleveland County's musicians and storytellers.
The Earl Scruggs Center, located in Shelby, NC, is open Tuesday – Saturday, 10 am – 4 pm, with extended hours until 6 pm on Wednesdays. Learn more about the Earl Scruggs Center by visiting www.earlscruggscenter.org.
For Inquiries, Contact:
Mary Beth Martin, Executive Director
Earl Scruggs Center: Music & Stories from the American South
704.487.6233-office
marybeth@earlscruggscenter.org
About Earl Scruggs Center:
The Earl Scruggs Center combines the life story of legendary five-string banjo master and Cleveland County native, Earl Scruggs, with the unique and engaging story of the history and cultural traditions of the region in which Scruggs was born and raised. The Center explores Scruggs' innovative career and the community that gave it shape while celebrating how he crossed musical boundaries and defined the voice of the banjo to the world. Mr. Scruggs embraced tradition while also adapting to the changing times and looking toward the future – themes which resonate throughout the Center. Engaging exhibits, special event space and rich programming provide a unique experience for visitors.
Earl Scruggs Center | 103 S. Lafayette St. Shelby, NC 28150 | 704.487.6233 | www.earlscruggscenter.org