Join us on Wednesday, October 19th from 12:00-1:00pm for this FREE program.   Bring your own lunch or pre-purchase lunch using link below.
CLICK HERE to register and order lunch.
Music is both an artistic and cultural product that allows groups and individuals to communicate identity, history and story. By examining the musical aesthetics and cultural context of a piece audiences today can appreciate the experience of both the presenter and moment of history. In this music history presentation Ruth Wyand will use musical and cultural analysis to examine the aesthetics and stories that informed North Carolina's rich tradition of female musician activists. Through photographs, narratives and live music, Wyand's interdisciplinary presentation demonstrates how the songs and stories of six North Carolina women embody their efforts to inspire change and foster greater societal awareness of their causes in both local and national arenas.
The presentation will highlight traditional female Cherokee and Lumbee tribal storytellers, union organizer and balladeer Ella May Wiggins, blues musician Etta Baker, mountain musician Samantha Bumgarner, and conclude with the jazz great Nina Simone. Wyand will contextualize the musical and poetic contributions of these women by sharing a brief overview of their life, struggle and achievement.
Ruth Wyand, from Kill Devil Hills, NC, is a musician, educator and music historian. Wyand holds a degree in music theory and composition and has studied jazz guitar with the Philadelphia Jazz Ensemble. Through her extensive knowledge of blues and jazz guitar and her love of American music history, Wyand has created several interdisciplinary presentations in the style of a performance documentary. These presentations incorporate live music, lecture, historical photographs and film footage to create a comprehensive music history program. Wyand has toured these shows throughout the United States, Europe and New Zealand, and the Middle East performing in colleges, universities, theaters, community centers, libraries and blues and jazz clubs.
In 2010 Wyand received a grant from the U.S. Embassy in Kuwait's Cultural Exchange Program to present her program "A Journey Down an American Music Highway" and to lecture on American music history. In 2012 and 2014 Wyand toured her performance documentaries in New Zealand and was invited to be a part of the Garden State Film Festival's Documentary series in Atlantic City, New Jersey.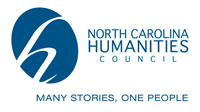 This project is made possible by a grant from the North Carolina Humanities Council, a statewide nonprofit and affiliate of the National Endowment for the Humanities.
Program Admission is FREE.  Exhibit admission may be purchased. 
Bring your own lunch or pre-order a $10 boxed lunch made by Full Plate Kitchen:
Grilled Chicken Salad (Gluten Free Option)
Turkey and Cheese on Wheat
Chicken Salad on Croissant
Roasted Veggie Wrap (Vegetarian Option)
All boxed lunches come with fresh fruit, dessert, and bottled water.  
Please place your order by Monday, October 17th at noon.
CLICK HERE to register and order lunch.
Exhibit Admission is available a fee: $12 adults |$8 seniors/college|$6 youth |5 and under FREE