On Tour Trunks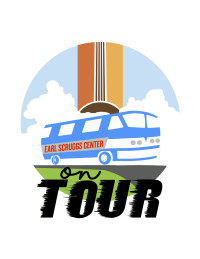 On Tour Trunks
Bring the Earl Scruggs Center into your classroom!  Our "On Tour" trunks are filled with items and curriculum-based activities that ignite a spirit of discovery.  Each box is a collection of resources that explore a specific topic related to the rich musical and cultural heritage of the community/region and the further-reaching American south.  On Tour Trunks are available for up to 2 weeks and can be reserved by calling the education department at 704-487-6233.  Each trunk includes lesson plans, activities and hands-on items that your students can touch and handle.
Cost: $25
Sensational Sounds: Music-Based On Tour Trunk
This trunk combines hands-on experiments with reading, observation and more to learn about and create music.  Students will discover how our ears hear, experiment with water to understand pitch and vibration and use the included instruments to add background music to a story. Providing truly entertaining and educational experiences, this trunk combines disciplines and is perfect for different types of learners.
Curriculum standards: K-5 standards in Science, information & technology, English, Social Studies and Music.
*Two activities in this trunk use consumables.  Educators can either choose to skip these activities or provide consumables for their class (rubberbands, rice, beans, small jingle bells, rice, pipe cleaners, straws, Kleenex boxes or anything else your students can use to make an instrument)!
A War From Within: Civil War On Tour Trunk
Using music, artifacts, letters, articles, maps and more, students will not just learn about, but discover, various perspectives during the Civil War.  Students use primary, secondary and tertiary sources to draw conclusions about slavery, women, technology, battles and espionage during this time of crisis in the United States.  This trunk is designed with an emphasis on North Carolina and contains lesson plans for 5 days.
Curriculum Standards: MS-HS.